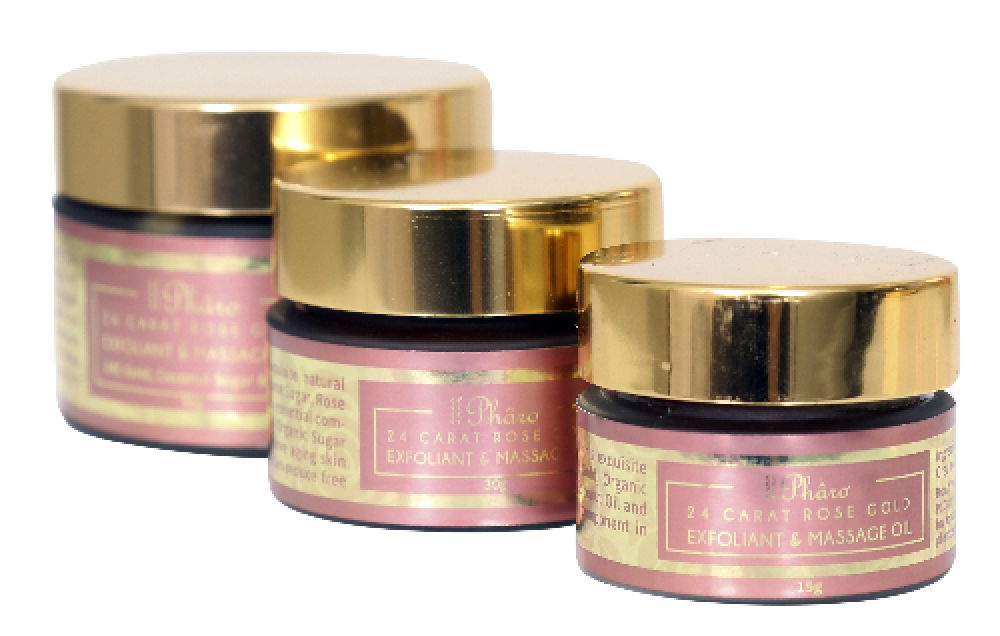 Phâro Exfoliant & Massage Oil
Phâro Exfoliant & Massage Oil will bring an effective element to the facial treatment by relaxing and energizing the clients facial area.
The blend of Rose, Coconut and Jojoba Oils rejuvenate, moisturize and protect the skin, leaving it soft and smooth while the catalytic Gold particles reduce free radicals and create a luminous, radiant skin with a romantic rose fragrance.
Benefits
The benefit of adding Phâro Relaxation Massage to the treatment session is that the face will look and feel smoother and more toned as you increase the circulation and help to release muscle tension.
The Organic Sugar will gently exfoliate, polish and remove aging skin cells while Alpha hydroxyls stimulate skin regeneration. If you want the Organic Coconut Sugar in smaller particles, heat it gently using an oil burner. Ensure the temperature is warm, but not hot, before applying it to the client's skin.
Some clients call it their 'mini facelift' by helping to strengthen layers of skin tissue and improve skin tone. Additionally, over a series of sessions there may be a reduction in lines and wrinkles, helping clients to feel good and look good!
When applied to wet skin, this exquisite natural blend of 24 Carat Gold, Organic Coconut Sugar, Rose Oil, Coconut Oil and Jojoba Oil is an essential component in any skincare regime.
Ingredients
Organic Coconut Sugar, Rose Oil, Organic Coconut Oil, Jojoba Oil, 24 Carat Gold Leaf